Geolocating Russian Anti-Ship Missiles in Occupied Crimea | 29 November 2018
With thanks to Sector035, MCantow, and Samir.
On 27 November 2018, Russian state media outlets published three clips of GRAU 3K60 "Bal" launchers, each carrying eight X-35 anti-ship missiles, and a Monolit-B radar system moving in convoy down a foggy rural road, allegedly on the road from Sevastopol to Kerch.
The first video was posted to RT's Twitter account at 14:48 UTC:
This footage was subsequently uploaded to RT's Youtube channel.
A second video appeared on YouTube at 15:38 UTC by 15 минут, an account operated by Ukrainian broadcaster ATR, but, from the watermark, the video source was an RT broadcast.
A third video, containing the footage from the first two clips cut together, was uploaded to RT's Youtube channel at 16:10 UTC.
The best clue was the mural on the retaining wall behind the parked transporter-launchers. On the leftmost edge of the mural, there is a St. George ribbon emerging from behind a red shape: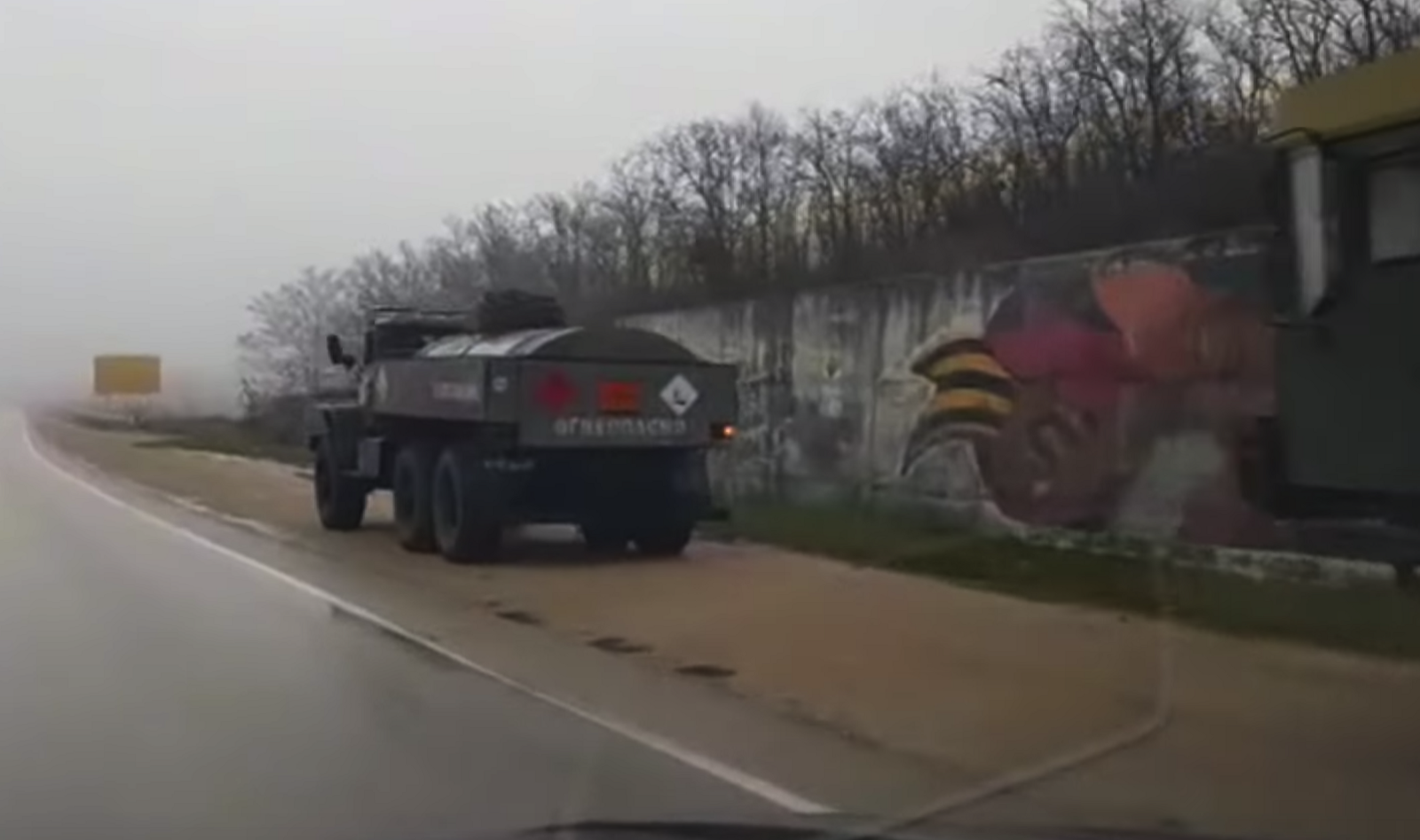 The same mural, commemorating Sevastopol's 225th anniversary, appears on Yandex Street View imagery on Highway P27 at (33.654451, 44.606703).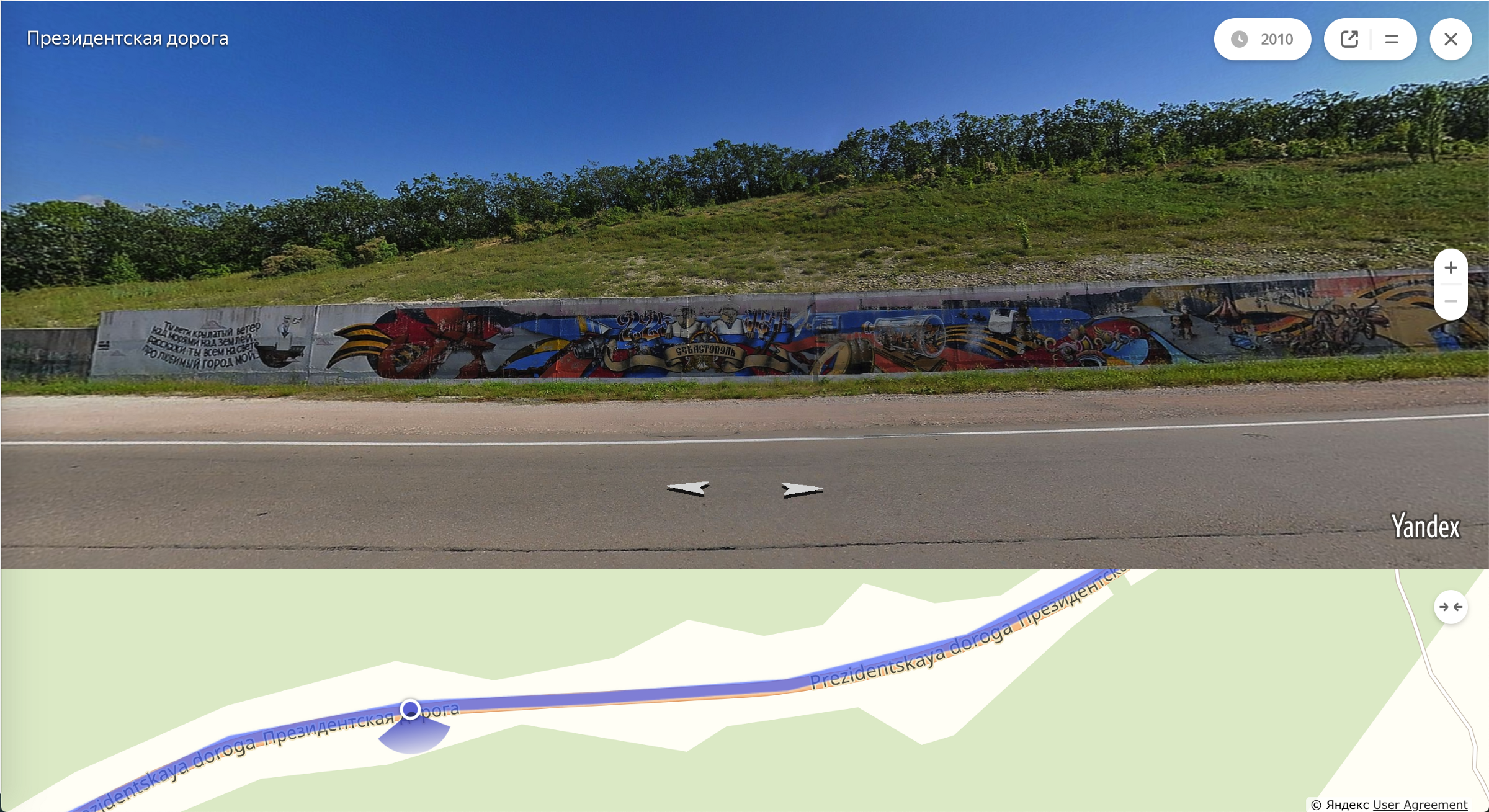 The rest of the footage takes place along a single stretch of road beginning at a cut in the hillside…
| | |
| --- | --- |
| | |
| The signage has changed since 2010 but the curb, wall, and hillside match. | (33.654451, 44.606703) |
| | |
| The truck unfortunately obscures the end of the wall, but the signage matches. | (35.032128, 45.009658) |
… and ending along a curve lined with black-and-white guardrails, red curve chevrons on the left and a striped curb and a merge sign on the right at (33.654451, 44.606703).
The footage in all three videos was shot in two takes traveling northbound (perhaps even toward Kerch!) on Highway P27 outside Sevastopol. Samir was the first to find the mural at the end of the northernmost segment (after I had driven that same stretch of road three times without noticing it), which led me to the stretch of road in the southernmost segment.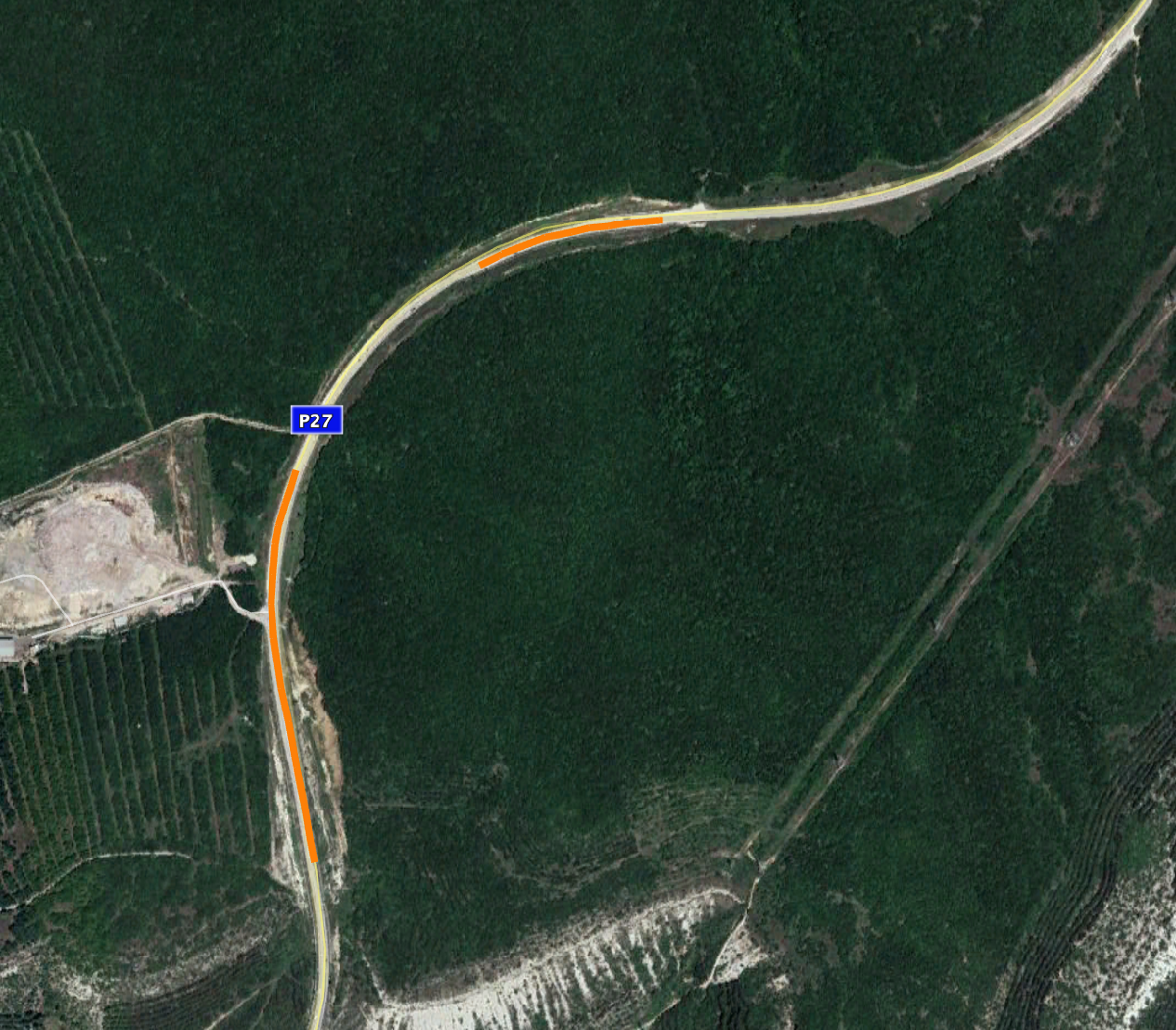 RT's clip has spliced footage from the northern segment into the middle of continuous footage filmed on the southern segment. There is no indication why the broadcasters chose to do this: if they thought it was going to obscure the location, they will find that they were overconfident.
So far no evidence has emerged to conclusively verify that the footage was shot on 27 November 2018, although the weather is correct for Crimea on that date, and I have not found any earlier versions of any of the footage.
Recut into its proper order, the footage looks like this: